Kindly - Shopify Payment Reminder
Send payment reminders via email to recover unpaid orders and maximize revenue. Automatically.
Get Kindly for Shopify
21-days free trial available
Increase

Revenue


by Recovering Unpaid Orders
Recover pending unpaid orders by sending kind payment reminders via email. Set up your own email schedule plan.
Go to Pricing Plans
Let
Kindly
do
it
for
you!
Automatically let the app send email payment reminders to customers with unpaid orders. Enjoy the extra time you saved by using the Kindly app.
View on Shopify App Store
Easy

Use!


Save Yourself the Programmer
Customize the design and text of your own email template with Kindly's template editor and start sending reminders!
View on Shopify App Store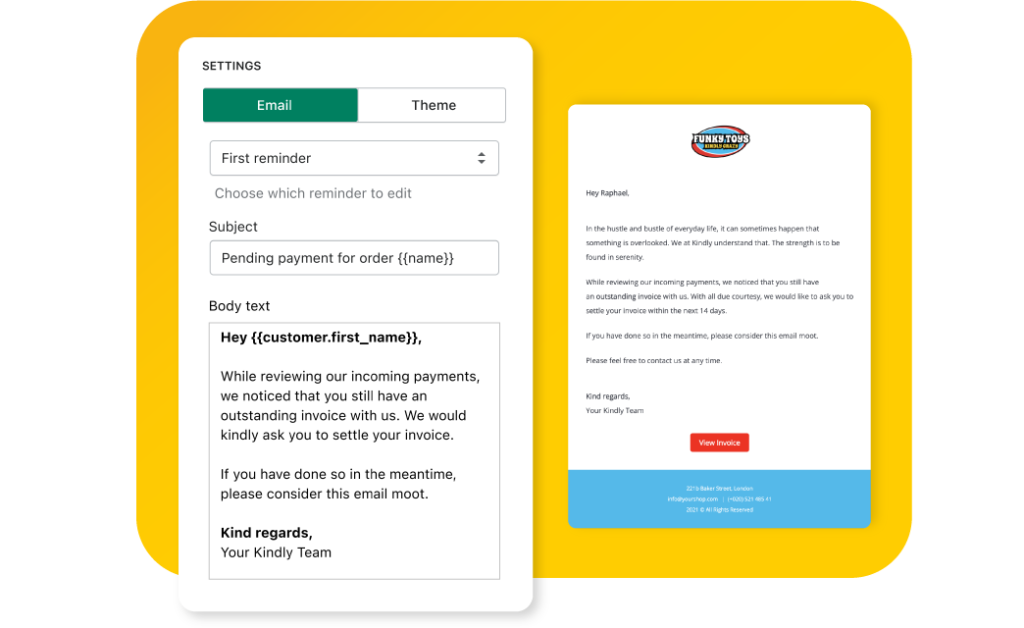 Thanks for this app and its features!!
"This app is super useful especially if you send out draft order invoices. We were able to set up 3 custom reminders to go out to increase the chances of a customer actually completing their draft order if they don't do it right away (which often happens)."
Perfect app, exactly what we needed!
"Customer service is also very quick and helpful. Thank you very much."
Did a great job to get everything up!
"The support has been helping me out to get the app functional and they've done a great job to get everything up."
It really works with my customers!
"Really helpful with everything! I was surprised because it really works with my customers! Thank you very much"
Customer service was excellent.
"Although the app functionality was a little confusing to me, customer service was excellent. Herbert responded promptly to my questions and even created a custom template for my reminder emails."
Great support service.
"We needed help with the domain config, and the Kindly team helped us right away!"

Use Kindly's full potential for 21-days for free – Go with whatever plan fits you best.
$

17.99

monthly

Kinder

Unlimited (draft) orders
Custom schedule & template
Auto-remind & auto-cancel unpaid orders
Filter orders tag based
Send from due date
Live chat
$

39.99

monthly

Kindness Pro

Unlimited (draft) orders

Chat & email support

All of the "Kinder" Plan

+ Spam Safety

+ Schedule up to
9 reminders in one cycle
 Free Trial available: Try Kindly's full potential for 21 days for free. All pricing plans.
View on Shopify App Store
Answers to the most asked questions of our customers.
How does the Kindly - Payment Reminder app work?
The app finds all your pending unpaid orders and draft orders and puts them in the recovery list. (Not older than 30 days)
First, you need to set up a reminder plan. The reminder plan contains the settings for the reminder schedule and the email template. There is one reminder plan for orders and one for draft orders.
When the email template and schedule plan are set up and the auto-pilot is enabled, Kindly will send out reminder emails to customers with unpaid orders according to your settings.
When the order gets paid Kindly will stop the sending of reminders and mark the order as "Recovered".
If the order is not paid by the last payment reminder, Kindly will cancel the order if enabled and restocks all products.
Find detailed info about how to set up Kindly on the How it works page.
Which orders can be recovered with Kindly?
Kindly is intended to recover orders that have not yet been paid. So all orders with the financial status of "pending", "unpaid" or "partially paid". Also, all draft orders with the status of "open" or "invoice sent".
Does Kindly return inventory after the cancelation of an order?
Yes, when Kindly cancels an order it returns all products to the inventory. The cancelation is of course optional and can be set up in the reminder plan under "Scheduling".
How many reminders can I send every month?
That depends on which plan you are on. Find out about your plan in the app's account page.
Can I use the app inside my WooCommerce store or any other store?